When The Internet People (which should probably be a company) installed our internet, they gave me a shitty wireless adapter for my desktop, but I got it to work with a little scotch tape and patience. Until I moved my computer when I got a new desk. I got it to work again, same methods applied. This worked until I moved my computer to unplug the speakers for our party. And this marked the end of Shitty W. Adapter.

I got pretty frustrated, because it stopped working roughly around the time I needed to submit my lab report for physics. In the end, I turned it in 7 minutes late, which according to my anal lab instructor, means it gets a full day's worth of late penalties. Computer problems are no exception.

All that just to say that the internet guy came and gave me a brand new adapter, and my internet is back. As such, here's a picture of my new ink...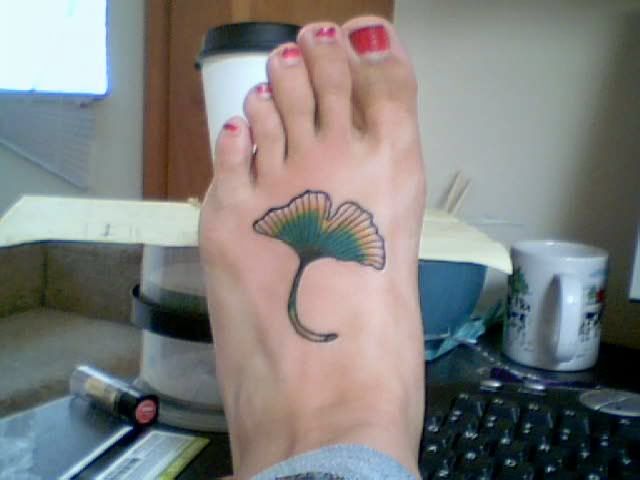 It's a ginkgo leaf! Why? For several reasons. I wanted "Something To Do with Nature" because I wanted the tattoo to be something that was important to me. I had a lot of respect for my biology professor this year, and he would periodically bring in ginkgo leaves and put them on the projector for us to look at. Whenever he wanted to explain something about plants, he would show the ginkgo. You can read all about the ginkgo

here.

It was him who introduced me to the fact that this plant has survived basically unchanged for 150 million years, as he showed us fossils found of the ginkgo. He also told me how people once thought the ginkgo was extinct, based on the fact that all Europeans had were fossils of the plant. But in the 1700's, they found some isolated ginkgos in Asia, and dispersed them throughout the world. Accordingly, I have ginkgo trees lining my street today! Pretty cool.

Okay, and I know it's cheesy, but it goes to show, that even when you think hope is lost, there very well might be some lurking where you least expect it. Plus, trees are sweet, which will be something to keep in mind as I embark on my career in environmental studies.

So,

Nicole

drew the outline for me, and I got it done by Caleb at Acme in Corryville. I'm pretty happy with it, except I didn't know he was going to leave skin tone on the edges. I'm going to go in for some touch-ups in a couple weeks. The skin tone on the leaf part is growing on me.. I think it keeps the leaf light enough to see the lines, which I like; however, the stem I think needs some more green, so I'll have more of that filled in. Also, there's a little smidge of green missing on the leaf, which you can't see in the picture. I'll have that fixed too.

I had no idea how much to tip the guy. He charged me $85, so I gave him a $20. Should I tip when I go back for touch-ups? I guess if he did it right the first time, I wouldn't need touch-ups. Oh well. He was really pretty cool, despite.



So, let me know what you think!

And ha.. You can totes see my sandal tan in the picture. Also, my toes are still green from the ink :-)